| Girl Painting in Art Class | Girl Drawing | Child Doing Art Activity | Slika banner 8 | Kids in Preschool | Kids Drawing | Boy Coloring |
| --- | --- | --- | --- | --- | --- | --- |
Launched in 2019 BRAINSCRIBE program offers a vast collection of visual-motor training workbooks with thousands of pen-and-paper activities ​and tasks.
​
BRAINSCRIBE tasks address cognitive developmental needs of CHILDREN
According to neuroscience visual-motor excercises create functional connections among visual and motor brain regions, and improve visual-motor integration (see more on Science Behind Brainscribe). Brainscribe program offers a large collection from which educational experts and parents can choose challenging tasks and activities for their children.
​
...and help in retaining of cognitive sharpness in SENIORS
To serve the needs of the ageing population BRAINSCRIBE Senior collection addresses seniors who enjoy solving visual-motor tasks, as well as for those who need such training to retain/improve their visual-motor integration.
​
BRAINSCRIBE collections:
More than 4.000 worksheets for teachers, educational therapists, and other educational/health care professionals who work with children.
Designed for work with groups of children in a classroom/group, or for individual work with children with poor visual-motor integration who need directed training to overcome their difficulties!
For: teachers, educational experts
Where: in institutions (schools, preschools, other educational or children health/care institutions)
Thousands of tasks and activities for visual-motor skills development and training.
​
​Worksheets grouped by type of tasks or by difficulty level enable parents to choose challenging and developmentally appropriate tasks for their children and their actual visual-motor proficiency!
For: parents, families
Where: to be used at home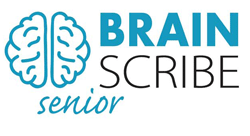 Thousands of visual-motor tasks and activities for seniors (or personell working with elderly).
BRAINSCRIBE SENIOR program provides cognitive training tasks for seniors who need to improve/retain their visual-motor integration and fine-motor skills
For: seniors or experts working with elderly
Where: to be used at home (seniors) or in institutions serving the needs of the ageing population (elderly homes, other organizations serving seniors)
BRAINSCRIBE FREE - a selection of workbooks available online for free home use - is the result of our dedication to offer high quality to all children and families globally.
BRAINSCRIBE FREE resources are intended only for personal/family use, and should not be used for formal/institutional/organizational needs.
For: parents, families (Brainscribe Family Free)
​
For: seniors (Brainscribe Senior Free)
​
Where: to be used at home